Welcome to Prayag Narain
Prayag Narain Multispeciality Hospital is an upcoming healthcare venture of Farrukhabad's Most advance Multi Specialty hospital, which was established in 2009 with a view to fill the wide gap between the demand of high class medical services and actually available services thereof. When you come to Prayag Narain for corrective healthcare, we are your most reliable team of people with best equipment and most of all a heart to give you great service. Prayag Narain Hospitals cares about you and your health care needs. You can entrust your health care in the right hands. At Prayag Narain Hospitals, we combine our efficient manpower with technological advancements to bring you the best health care solutions. "Sickness is never desired, However, best Medical help is". We are your best medical help.

WORKING TIME
| | | |
| --- | --- | --- |
| Monday – Friday | – | 8.00 – 17.00 |
| Saturday | – | 9.30 – 17.30 |
| Sunday | – | 9.30 – 15.00 |
RIRS
Retrograde intrarenal surgery (RIRS) is a procedure for doing surgery within the kidney using a viewing tube called a fiberoptic endoscope.
In RIRS the scope is placed through the urethra (the urinary opening) into the bladder and then through the ureter into the urine-collecting part of the kidney. The scope thus is moved retrograde (up the urinary tract system) to within the kidney (intrarenal).
RIRS may be done to remove a stone. The stone is seen through the scope and can then be manipulated or crushed by an ultrasound probe or evaporated by a laser probe or grabbed by small forceps, etc.
RIRS is performed by a specialist, a urologist (endourologist) with special expertise in RIRS. The procedure is usually done under general or spinal anesthesia.
The advantages of RIRS over open surgery include a quicker solution of the problem, the elimination of prolonged pain after surgery, and much faster recovery.
Holmium Green Laser
Laser lithotripsy is a surgical procedure to remove stones from urinary tract, i.e., kidney, ureter, bladder, or urethra.
A urologist inserts a scope into the urinary tract to locate the stone. The scope may be a cystoscope, ureteroscope, renoscope or nephroscope. An optical fiber is inserted through the working channel of the scope, and laser light is directly emitted to the stone. The stone is fragmented and the remaining pieces are washed out of the urinary tract.
The procedure is done under either local or general anesthesia and is considered a minimally-invasive procedure. It is widely available in most hospitals in the world.
Lithotripsy
Shock Wave Lithotripsy (SWL) is the most common treatment for kidney stones in the U.S. Shock waves from outside the body are targeted at a kidney stone causing the stone to fragment. The stones are broken into tiny pieces. lt is sometimes called ESWL: Extracorporeal Shock Wave Lithotripsy.
These are what the words mean:
extracorporeal: from outside the body
shock waves: pressure waves
lithotripsy (the Greek roots of this word are "litho" meaning stone, "tripsy" meaning crushed)
So, SWL describes a nonsurgical technique for treating stones in the kidney or ureter (the tube going from the kidney to the bladder) using high-energy shock waves. Stones are broken into "stone dust" or fragments that are small enough to pass in urine. lf large pieces remain, another treatment can be performed
Laparoscopic Surgery
We, at Prayag Narain, believe in curing a problem through the least invasive procedures. We recommend the minimally invasive surgical procedure for a diverse range of problems, including Gall Bladder stones, Kidney & Ureteric stones, various kinds of Hernia, surgery of ovary & uterus (hysterectomy) and obesity. Problems relating to stomach, liver, pancreas, rectum and common bile duct are also cured through laparoscopic surgery. This surgery is sometimes also known as keyhole surgery/laser surgery in common man terms.
During laparoscopic or keyhole surgery, we make tiny incisions of 5-6 mm in the patient's body. The incisions are used to see through cameras and use other instruments. As the tools allow our doctors to access the internal organs of a patient, operation is executed in a painless manner. Through laparoscopic surgery, we avoid cutting muscles, hence the procedure is practically bloodless and painless.
Apart from the standard keyhole surgery, we offer Mini Laparoscopic Surgery in selected adults & children. In this surgery, the incisions or cuts are as small as 3 mm; and are practically painless & scar-less. Hence, this surgery is more appropriate for cosmetic-conscious patients.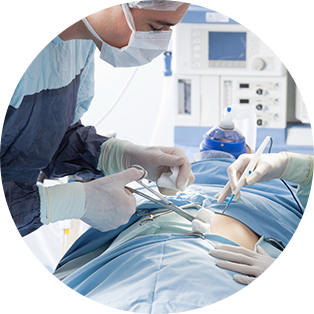 About us
Dr.Arvind Gupta single handedly revolutionized the treatment of Urinary Tract & kidney Stones in Farrukhabad, India by introducing the Extracorporeal Shock Wave Lithotripsy, Percutaneous Surgery of Kidney Stones & Ureterorenoscopy with Holmium Yag laser lithotripsy.
The Clinic is Equipped With State of Art, Ultra Modern Operation Theatre.
More than Ten Ureterorenoscopes (Semirigid & Flexible ranging from 4.5 Fr. Tip to 8.5 Fr. Tip)

Chip on Tip Flexible Uneturonenoscopy from Karl Stroz Germany

Semi Rigid & Rigid Unetroscopes

Cystoscopes

Nephroscopes

Laparoscopes

Holmium Yag Laser

Turoseal

ETCO2 Monitoriy System

Lithotriptar

Bipolar Richard-Wolf Generator

Direx Extra Corporeal Shock Wave Lithotriptor

Vessel Sealer from XcelLance

HD Camera Image from Karl Stroz Germany

HD Camera 1288 Strylar,USA
Meet Our Doctors
Laproscopic Surgery

Dr. Arvind Gupta



   M.B.B.S , M.S

Duis autem vel eum iriure dolor in hendrerit in vulputate velit esse molestie consequat…

Genaral Medicine

Dr. Kavita Sharma



   M.B.B.S , MD

Duis autem vel eum iriure dolor in hendrerit in vulputate velit esse molestie consequat…

Gynaecologist

Dr. Priti Rajan



   M.B.B.S

Dr. Priti Rajan is associated with Prayag Narain Hospital as a Consultant Gynaecologist.She has special interest in Obstetric intensive care and emergency Obstetric care

Orthopedics

Dr. H.K Bachani



   M.S (Ortho)

Dr. H.K Bachani is associated with Prayag Narain Hospital as a Consultant Orthopaedic Surgeon.He has an experience of over a decade, in which, he was exposed to various orthopaedics problems.

Why Us
Latest Technology and Equipment's
We Are Your Most Reliable Team of People With Best Equipment And Most of All A Heart To Give You Great Service.
Read More 
More than Ten Ureterorenoscopes
Chip on Tip Flexible Uneturonenoscopy from Karl Stroz
Semi Rigid & Rigid Unetroscopes
Holmium Yag Laser
ETCO2 Monitoriy System
Lithotriptar
HD Camera Image from Karl Stroz Germany
HD Camera 1288 Strylar,USA
Best Healthcare Facilities
The Hospital Has ICU,General Wards, Semi-Private, Deluxe Rooms. The Hospital Has Air-Conditioned & Air Cooled General Wards.And Private Rooms
Read More 
Highly Equipped Surgical ICU
Highly Equipped Emergency
Highly Equipped 2 Operation Theater's
Computerized Pathology
State of Art Campus
High Caliber Nursing Professionals
All Medical services under a single roof
Every auxiliary support system such as X-ray, Laboratory reports, Pharmacy and other critical supports are available in house.
Healthcare At Affordable Costs
Departments
Laproscopy
Urology
Child Urology
Medicine
Emergency
ICU
Gaynaecology
Radiology
Infertility
Orthopedics
Cardiology
Pulmonary